Duration: 3 Weeks / 6 Member
Contribution: Field Research, Concept Generation, UI/UX Design, Usability Test

Vituu offers a service of buying and selling waste on a standardised platform where the users don't need to worry about transportation. Vituu provides values from financial benefits for the members of the waste management system to ecological benefits from a higher value being placed on waste.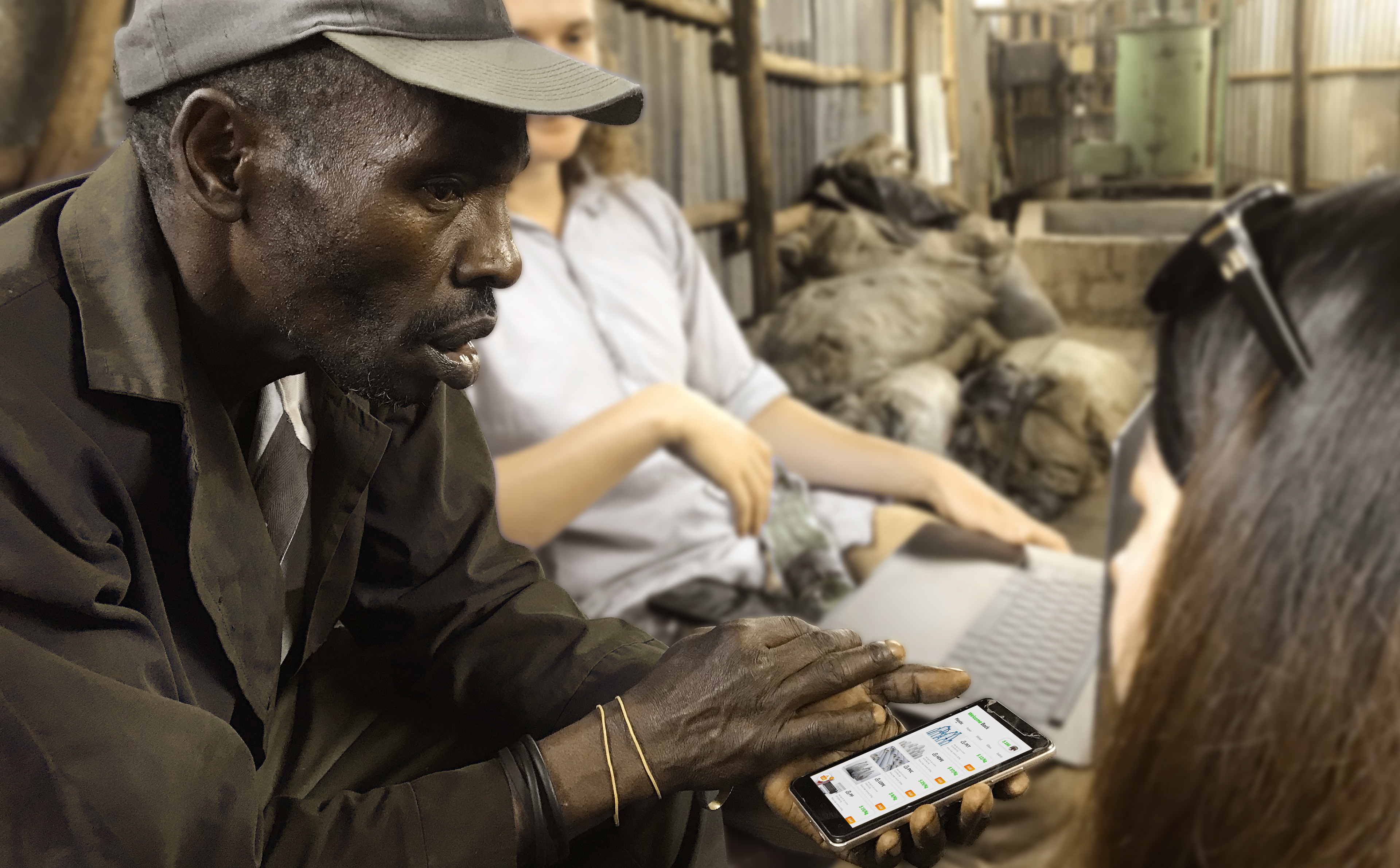 We conducted

3 rounds of field research and 5 times of focus groups

with users including recycling business leaders, waste collectors and community managers. We

experienced

waste-recycling process directly with collectors in Dandora dumping site.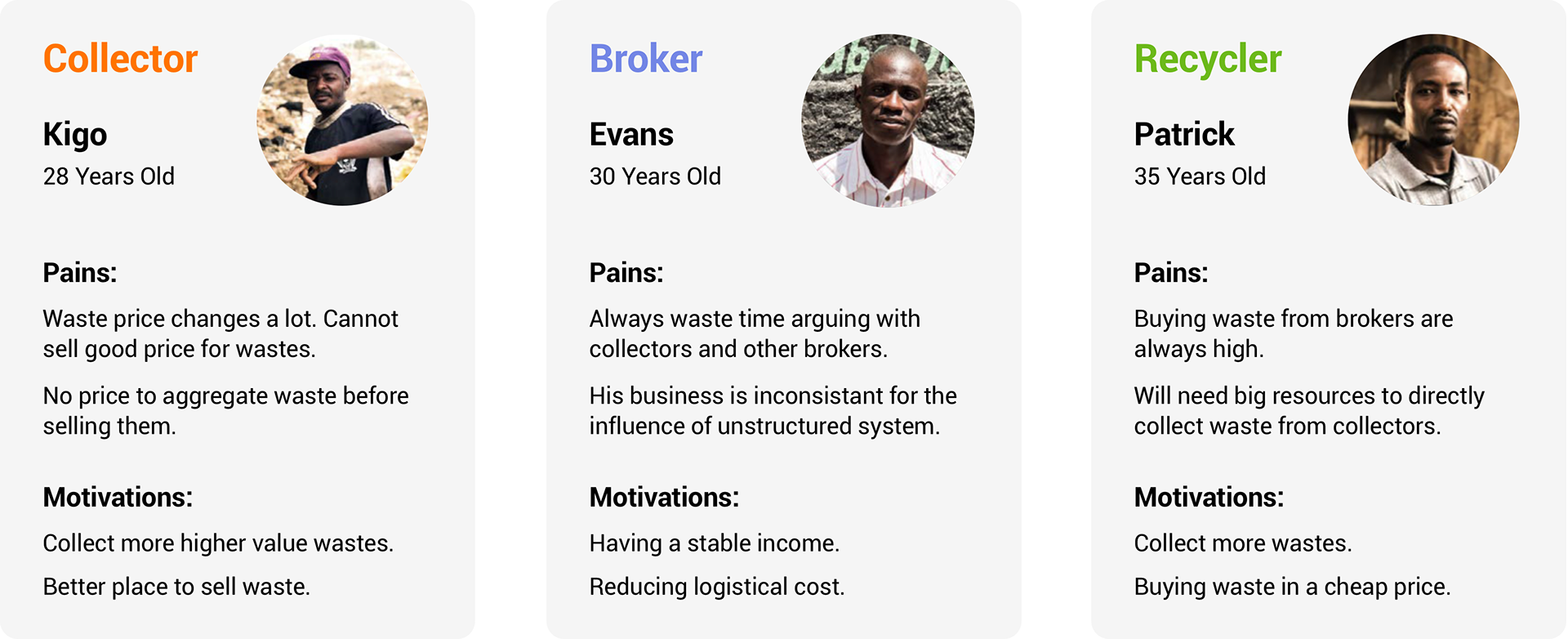 During the research, we received many complains. Recyclers complained that it is hard for them to collect enough PET everyday even they provide really competitive price. But collectors complain that the PET price is too low to collect so they never collect this type of plastic. And Brokers complain that communication cost so much energy and low efficiency.
After hearing all those facial complains, we created an ecosystem map for the whole waste management system to find

the key root of all the problem

. We found it is a

systematic problem with three discrepancies: Price / Information / Transportation.
This insight becomes our starting point to redesign the system.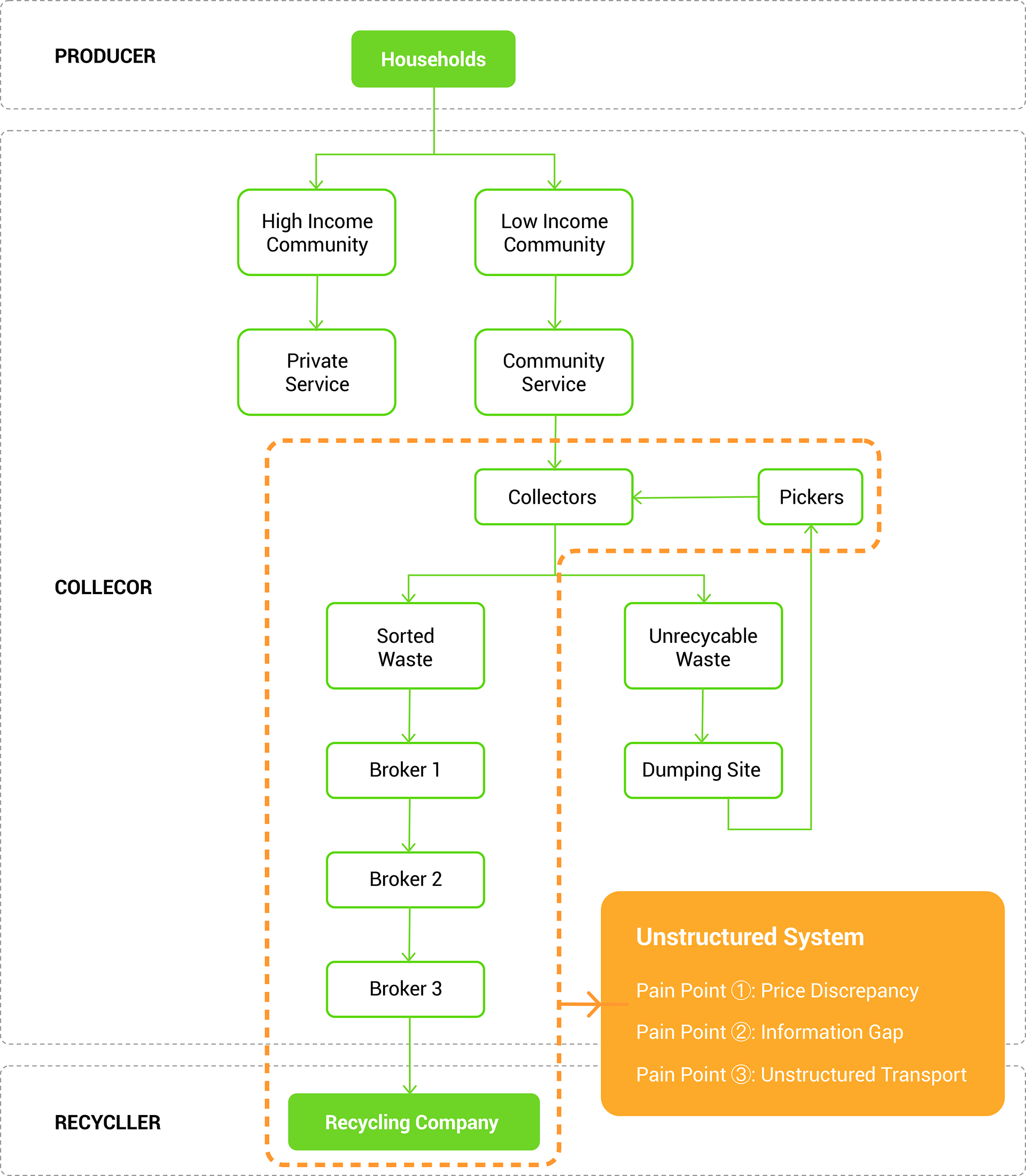 - A
waste transaction system
.
- A platform that provides
transparent price
information for the seller.
A platform that provide 
transportation service
to increase efficiency of the whole waste management system.
- Provide sellers
financial benefits and convenience
of transferring wa
stes.
- Provide brokers a 
stable income source
by hiring them and renting them trucks.
- Provide recyclers a 
stable waste source
.
- Increase the efficiency of the whole waste management system to finally provide the
ecological benefits
to the environment.
​​​​​​​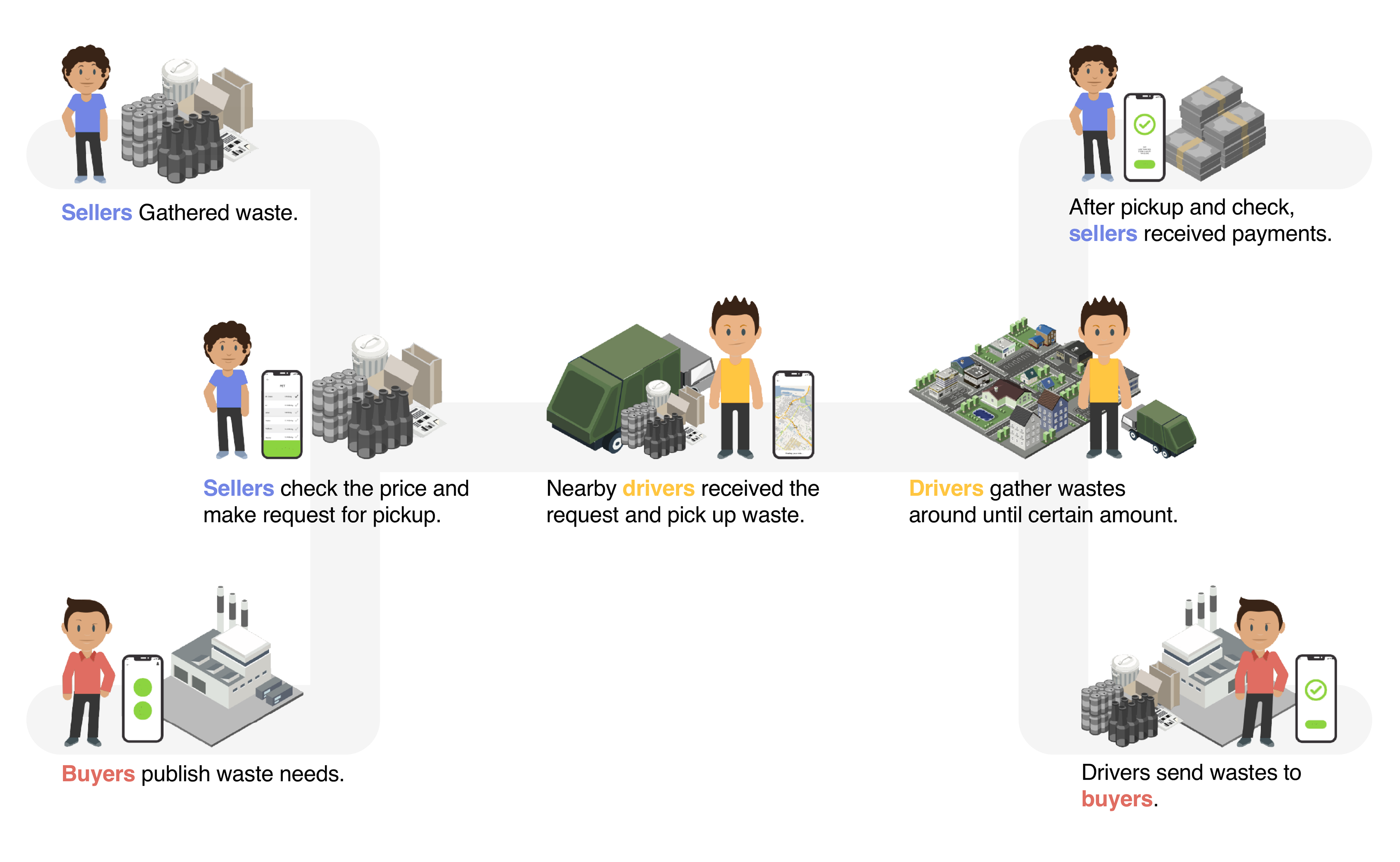 We came up with around four solutions and then picking and merging them together to form the final idea. 
- Around 60% collectors and 90% brokers have smartphones. Besides, there is a local non-smartphone system called USSD which is perfect and easy for us to use. 

So the sellers' app will both have smartphone version and USSD version.
- Drivers need smartphones to navigate. So we will hire drivers and rent them trucks and smartphones.

Drivers' app will only have smartphone version.
- Buyers are mainly big recyclers.

So the buyers' version will be a backstage system.
Here, I mainly displayed the smartphone version for seller side and driver side.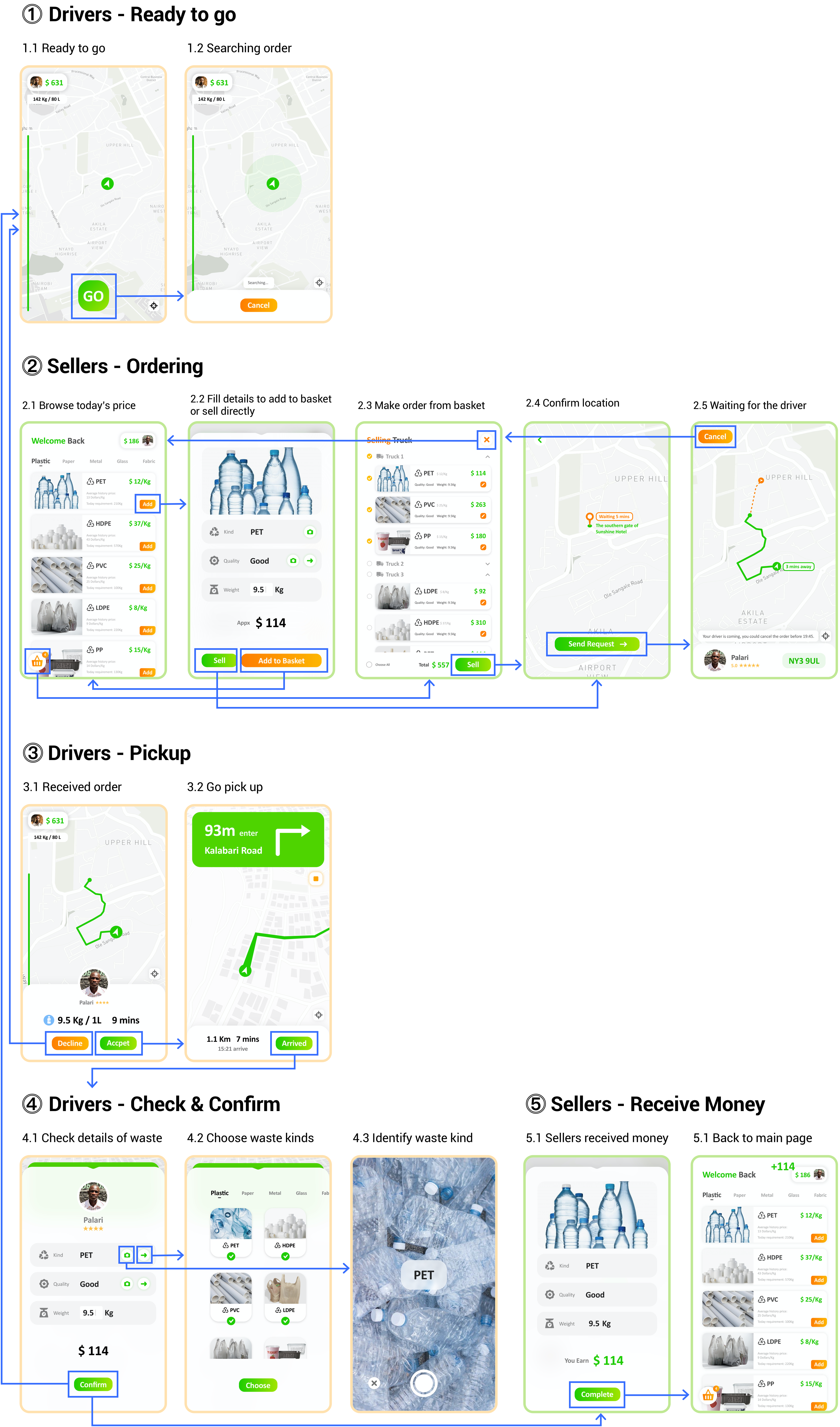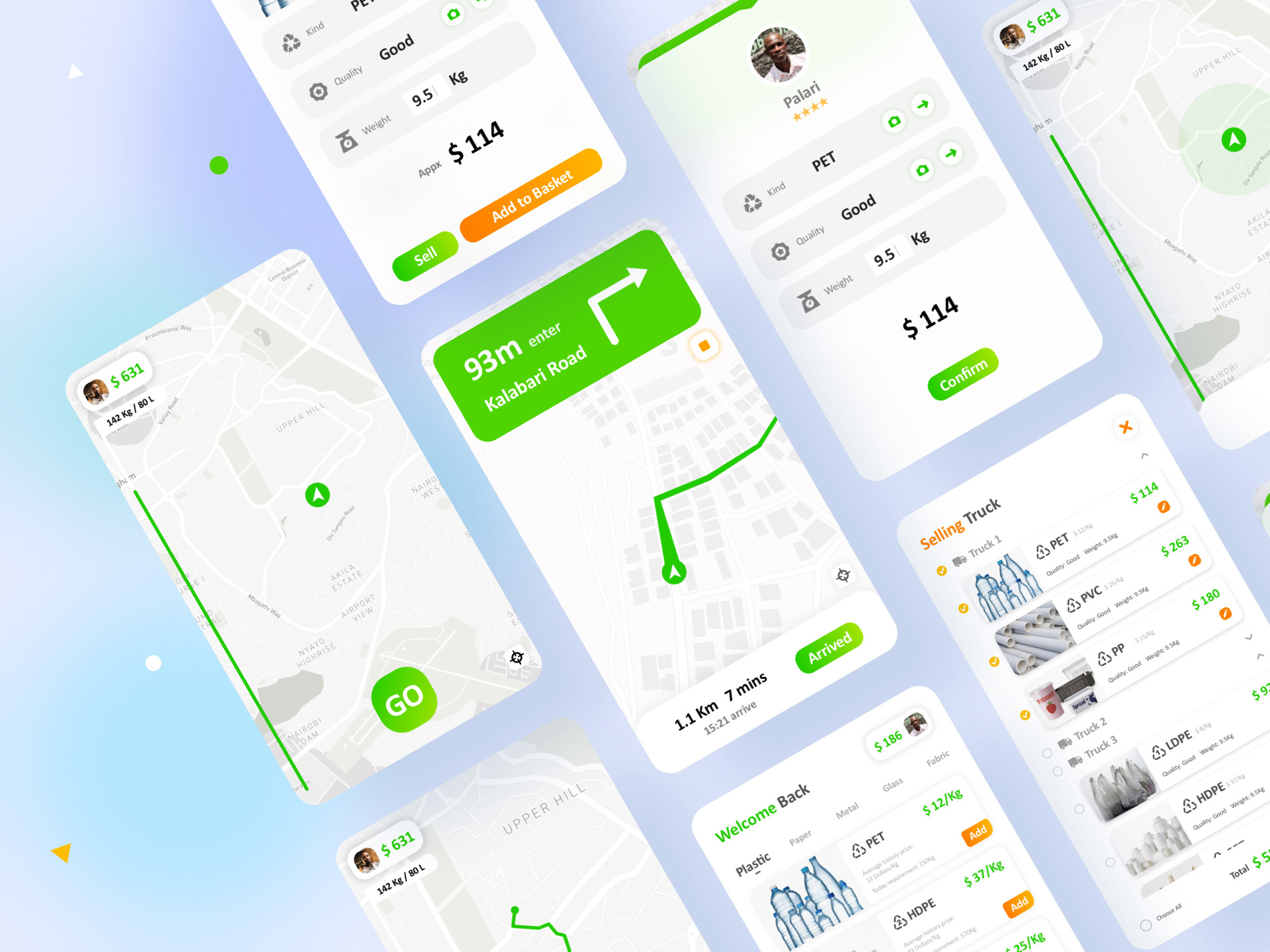 We did 2 rounds of user test mainly with
A/B Test and Paper Prototype
methods.